Living expenses while studying in Australia
When you are planning to study abroad to Australia, there are a lot of considerations to be made. What course to take, career prospect, environment, and one of the most important that you can never miss is, the living expenses. Australia is known as one of the country with the highest standads living in the world, which means a more expensive cost. But here is the good news, we have a better salary, with safer environment and better facility. Doesn't it sound just awesome.
For you to stay comfortably while studying in Australia, you can expect to spend AUD 360 per week or less. This will include accomodation, meals, phone and utility bills, transportation, and entertainment or extra spendings. We are going to break it down one by one over here.
Accomodation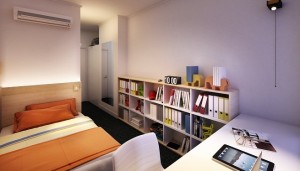 Lodging going to eat up most of your spending budget in Australia. You can rent a single room for AUD 160 in the suburb area. The nearer it is to the CBD, the more expensive the rent is going to be. It can goes up to AUD 200-300 per week. You can look for a roommate to share as well. If you wish to look for your own place we recommend to look for a place with grocery store nearby. The other option is to stay in the dormitory provided by university. It will be closer to your university or college so you will spend less on the transportation. Besides, you can save some travelling time to when you have morning class. Or you can choose homestay with guardians. Usually this is a compulsory for those who haven't turned 18 years old while enrolling in a university. Some homestays provide lodging and meals as well, but it will add up the cost.
Food
A meal would cost from AUD 5-8 in cafetaria. If you wish to save some cash you can choose to buy grocery and cook yourself. It takes a little time but in the long run you can save quite a lot.
Phone and utility bills
This will be the internet, water and electricity bill. The statement will be sent to you per month basis. You can check with the local internet provider for the monthly package, most of the time this is shared among tennants in an apartment. There are a lot of internet providers in Australia, but the most notable ones are Bigpond and Optus, . Internet bill is fixed, while the water and electricity bill are usually included within the room rent.
Transportation
The bus and train fare for each state will be different depending on each service provider. It is best to check on the website for more accurate detail. But it shouldn't cost more than AUD 20 per week.
Entertainment and miscellaneous
A movie ticket would cost you around AUD 20-25. Generally it will be cheaper on Tuesday. Sports activity in your university will cost less than AUD 10 per session. We advice every international students to have their OSHC for health cover purpose, in case if you need to seek medical assistance so you don't have to pay extra for it. For more information about OSHC check this post.
Looking at the general expenses above that a student might spend, it is possible to cover it with extra part time work. As an international student, you are allowed to work for 20 hours per week, and unlimited hour during your semester break or holiday ( You can read more about it here ). This makes studying in Australia more affordable. If you have any question or help with living in Australia, contact us and we will be glad to assist you.